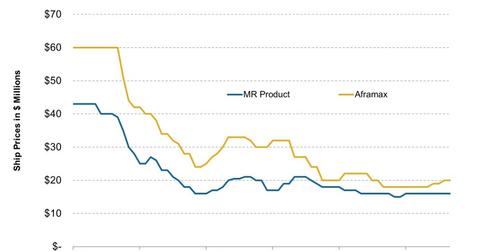 Why 2nd-hand vessel prices favor Navios (NNA) and Scorpio (STNG)
By Xun Yao Chen

Oct. 3 2013, Published 2:00 p.m. ET
The importance of second-hand vessel price (values)
In addition to new-build prices, it's also important for investors to follow second-hand vessel prices. Like prices for newbuilds, second-hand vessel price reflect the fundamental outlook for the shipping industry. When prices are rising, they generally portray a favorable outlook for rates. When rates are stable, you can expect the outlook to be dim. And when rates are falling, you can expect the outlook to be negative and share prices to fall.
Ten-year vessel prices comparatively weak
Article continues below advertisement
For the month of September, resale prices for ten-year MR Product and Aframax vessels remained unchanged at $16 million and $20 million, respectively, from August. Unlike new-build prices, ten-year prices tend to be less smooth because these vessels are sold and purchased in the secondary market. As buyers can quickly employ these vessels, price fluctuations tend to be more prone to short-term movements in expected profitability.
Five-year vessel price also weak
Vessel prices for five-year-old product tankers also remained unchanged for the month of September. MR product tankers priced at $27 million and Aframax vessels were valued at $30 million. Investors may notice that although second-hand values have risen since the start of the year, they haven't been as robust as price increases in product tankers.
This is likely because the short-term outlook on rates, assessed by buyers and sellers of ships in the secondary market, remains negative, as we've seen recently in shipping rates. Plus, companies are trying to take advantage of "eco-fuel" new-builds that will allow shipping companies to earn higher profits.
Significance for product tankers
The strength difference between new builds and second-hand values suggest the companies that will most benefit from a product tanker recovery are those that are aggressively purchasing new builds. These include primarily Navios Maritime Acquisition Corp. (NNA) and Scorpio Tankers Ltd. (STNG). Nonetheless, as long as second-hand values continue to improve or don't fall, they reflect higher overall industry profitability, and the shares of Capital Product Partners LP (CPLP) and Tsakos Energy Navigation Ltd. (TNP) will benefit. This would also be positive for the Guggenheim Shipping ETF (SEA).