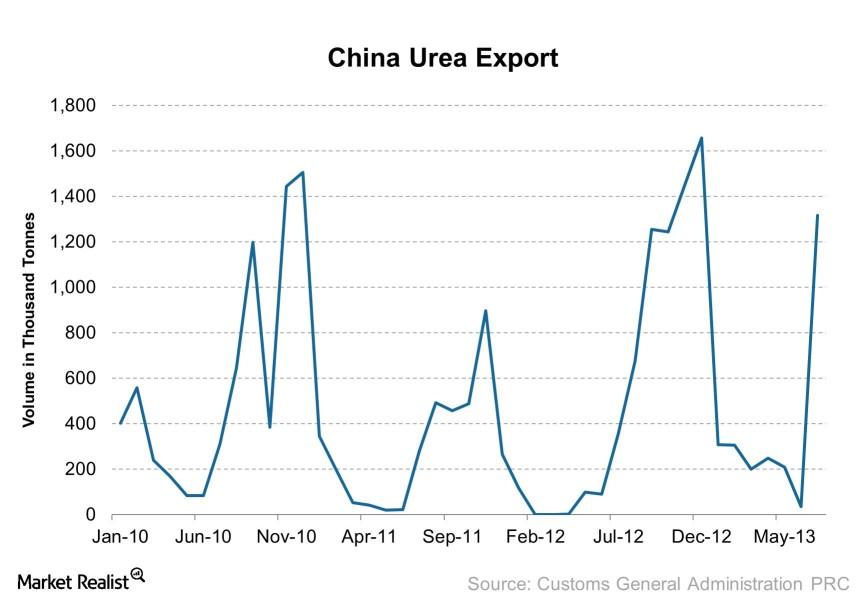 Why record exports from China will keep fertilizer prices low
By Trisha Justiniano

Aug. 18 2020, Updated 6:33 a.m. ET
Urea export shifting world dynamics
As increased production led to higher supply, it created a ripple effect on China's urea export. While historically, export volumes were close to zero from March to June (when export taxes were higher), in order to keep fertilizer prices low in China, the country was still exporting some 200,000 tonnes of urea a month. This 200,000 tonnes of export isn't much, but it does reflect how supply and demand dynamics were shifting in China and creating a ripple throughout the global industry.
China to export record urea volumes this year
Article continues below advertisement
While export fell in June, the decrease was because exporters were waiting for the export tax to lower, beginning in July. So in July, China exported a record volume of urea, totaling 1.32 million metric tonnes. In 2010, 2011, and 2012, export volumes were 309,000, 280,000, and 353,000 metric tonnes, respectively, for the same month. That makes this year's July export volume about four times higher than the past's. If this momentum follows through to the end of the year, China will export a record amount of urea.
Prices, not shipments, drive nitrogenous fertilizer stocks
Since demand for nitrogenous fertilizers is quite inelastic, as farmers have to repeatedly apply these fertilizers every single year, shipments tend to be fairly constant. The above chart shows that this is the case for companies such as CF Industries Holdings Inc. (CF), Agrium Inc. (AGU), and Potash Corp. (POT)—even though some companies may have higher shipments in one period and lower shipments in another.
Increased supply has a large influence on price
The only exception, CF Industries's ammonia shipments increase from 2010, was driven by investment in Terra Nitrogen Company LP (TNH). This contrasts to potash, which farmers can sometimes forgo (especially when food inflation, farm profitability, and economic growth are low). The inelastic demand means nitrogenous fertilizer prices must lower significantly in order to entice farmers to purchase more. So prices—not shipments—have been the main factor driving revenue, earnings, cash flows, and share prices over the past few years. (The second factor was the lower natural gas price in the United States.)