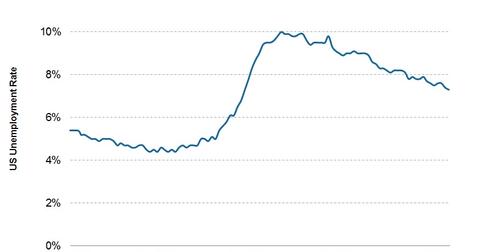 Broad economic woes and slow housing starts affect propane sales
By Ingrid Pan

Aug. 18 2020, Updated 10:28 a.m. ET
Unemployment still hasn't fully recovered to pre-recession rates
Strength in the broader economy is positive for propane demand, as it generally translates into more consumer spending. Conversely, economic weakness can erode propane demand, as consumers are less willing or less able to purchase propane. Customer conservation of propane has been a persistent theme—especially since the financial crisis of 2008–2009. Though the economy has recovered significantly since the recession, unemployment still remains at historically high levels. If economic recovery falters and unemployment stagnates or increases, this would be a negative for propane distribution names such as Amerigas (APU), Ferrellgas (FGP), and Suburban Propane (SPH).
Propane demand also affected by housing starts
Article continues below advertisement
Housing starts (the number of privately owned housing units that started in a given period) have trended positively over the past year, but a slowdown in housing starts could negatively affect propane. Demand for new homes trends positively with economic strength and the strength of the residential real estate market, so weakness in the U.S. economy could dampen new home demand. A slowdown in housing starts could be a negative for propane demand, as some new homes constructed will use propane as the primary heating fuel.
Generally speaking, the U.S. economy has been improving since the financial crisis. However, weakness in the economy going into this winter heating season could sap propane demand and therefore result in reduced earnings for propane distributors.