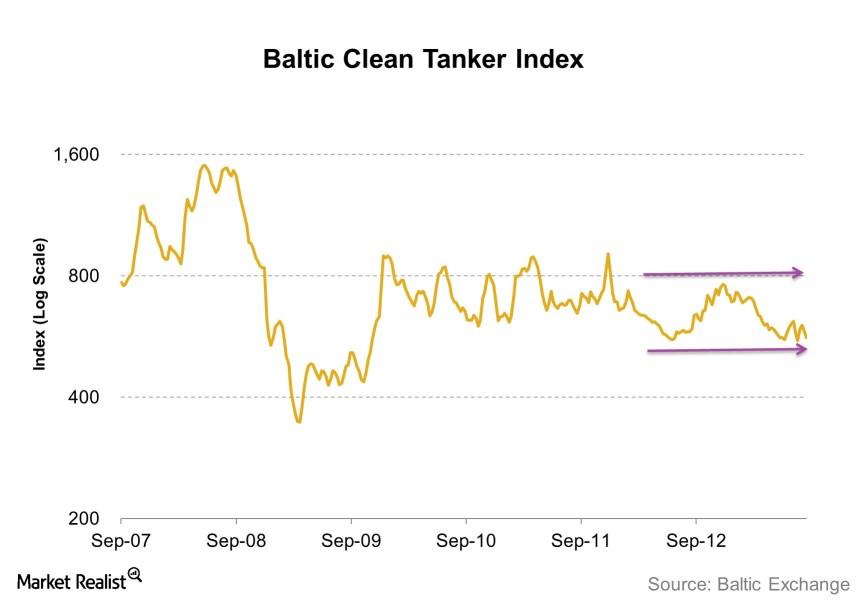 Neutral shipping rates mean fleet expansion, driving share prices
By Xun Yao Chen

Nov. 20 2020, Updated 1:16 p.m. ET
Shipping rates affect companies' revenues
The single most important indicator that affects tanker companies' top-line revenue is shipping rates, which influence profitability margins, earnings, and share prices. So traders and analysts often look at shipping rates. Shipping rates generally fall because of looser supply and demand dynamics. On the other hand, shippers can achieve higher shipping rates through tighter supply.
Rates are back down again following a short-term rise
Article continues below advertisement
On September 13, the Baltic Clean Tanker Index stood at 561, down from 580 on September 6. The Baltic Clean Tanker Index reflects the shipping rate for moving refined oil over water. The recent decline is evidence that supply growth appears to be keeping pressure on further increases in rates. Nonetheless, it hasn't fallen below last year's low, which is quite positive.
Rates hovering near neutral growth line
The Baltic Clean Tanker Index has recovered, on a year-over-year basis, from the negative levels we saw during the first half of 2012, when U.S. domestic production wasn't growing much. It started to recover during the second half of 2012, as oil production rose in the United States and exports increased. The recent increase in year-over-year growth (since May) appears to be driven by fewer supply deliveries and an increase in global shipments. Analysts often use year-over-year data to adjust for seasonality and make comparisons to demand growth.
Companies increasing vessel portfolio are benefiting most
Based on current trends and data taken from energy associations, non-OPEC (Organization of the Petroleum Exporting Countries) production is expected to outpace OPEC production in the next few years (see The dynamics of global oil trade and demand for crude tankers). Since the United States, the primary incremental producer of oil, is expected to export more refined oil (as the law prohibits exports of domestically produced crude oil), product tankers like Scorpio Tankers Ltd. (STNG), Navios Maritime Acquisition Corp. (NNA), Tsakos Energy Navigation Ltd. (TNP), and Capital Product Partners LP (CPLP) should benefit. The Guggenheim Shipping ETF (SEA), which invests in TNP and CPLP, will also benefit. But unless we see average growth in positive territory, the companies that will benefit most will be those that are adding new ships. These include primarily Scorpio Tankers Ltd. (STNG) and Navios Maritime Acquisition Corp. (NNA).