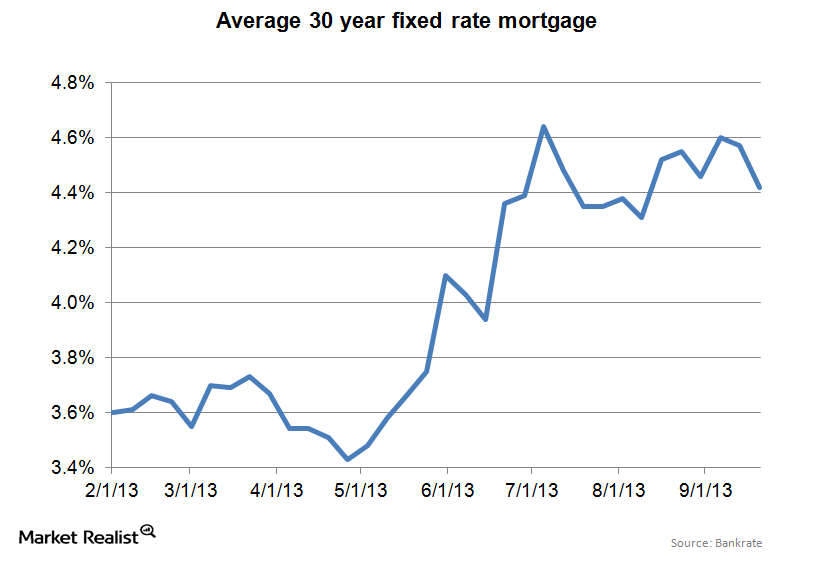 Why mortgage rates declined after the FOMC maintained its course
By Brent Nyitray, CFA, MBA

Dec. 4 2020, Updated 10:53 a.m. ET
Every week, the Mortgage Bankers Association (MBA) puts out an index of mortgage application activity
Mortgage applications are relevant to a number of industries—from banks to non-banks, to mortgage REITs like Annaly (NLY) and American Capital (AGNC), to homebuilders like KB Home (KBH), Lennar (LEN), and Toll Brothers (TOL). This series will break down the different indices and help you learn what insight you can glean from them. If you're a bank, you're looking at these indices and trying to determine whether you're competitive in all the segments you want to be competitive in. If you're a non-bank, you might be looking to see if you're gaining share or losing share. If you're a mortgage REIT, you're focusing on the refinance index and what it might mean for prepayments going forward. And if you're a homebuilder, you're watching the purchase index as a way to gauge future demand.
Mortgage rates fall slightly for the week
Article continues below advertisement
The average 30-year fixed rate mortgage fell 3 basis points, from 4.57% to 4.42%, as the ten-year bond rallied from 2.88% to 2.73%. Interest rates fell sharply across the board as the Fed voted to maintain its current rate of asset purchases. The market was betting heavily that the Fed would begin to reduce purchases, and short covering drove rates higher on the surprise.
Mortgage banking has become a lot more competitive as rates have increased. The refinance business has fallen off a cliff and bankers are cutting employees and rates. This is affecting the REITs that have banking exposure, like PennyMac (PMT), Nationstar (NSM), and Redwood Trust (RWT). It's so competitive in the jumbo space that the rate on jumbo loans has actually fallen below the conforming rate. That said, servicing has become a valued commodity, which helps Ocwen (OCN). As rates have stabilized, they've helped even the agency REITs with heavy leverage and duration exposure like Annaly (NLY) and American Capital Agency (AGNC).
This series will look at the three main MBA indices.
Part 2: The MBA Basic Index
Part 3: The MBA Purchase Index
Part 4: The MBA Refinance Index
We'll start with the basic MBA Mortgage Applications Index.