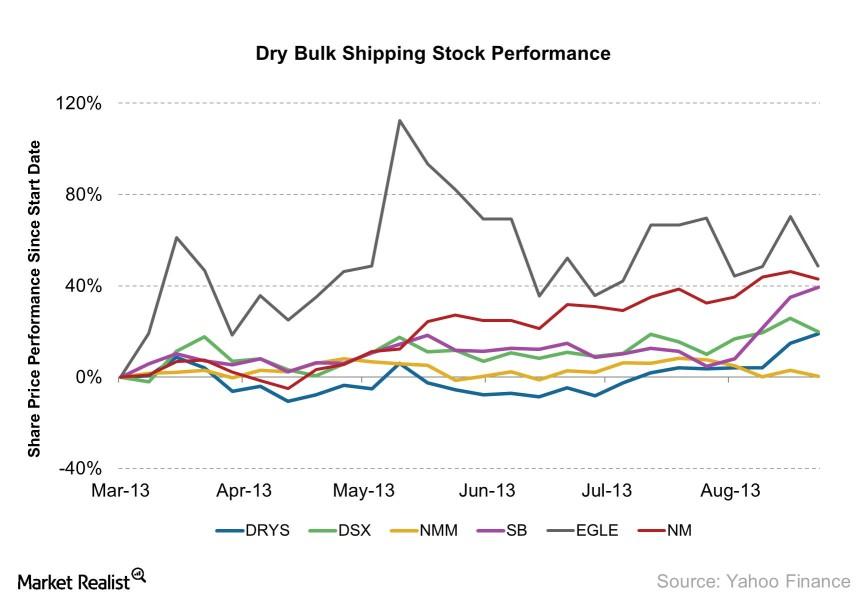 Why you should look beyond the U.S. market for dry bulk shippers
Mixed performance for dry bulk companies
Last week, performance among dry bulk shipping companies was relatively mixed. Diana Shipping Inc. (DSX), Navios Maritime Partners LP (NMM), and Navios Maritime Holdings Inc. (NM) had all pulled back along with the broad market on Syria woes, lingering tapering concerns, and some weakness in dry bulk rates. Safe Bulkers Inc. (SB) and DryShips Inc. (DRYS) were up throughout the week based on technical breakouts, after a positive comment by the CEO of Golden Ocean Group pushed dry bulk shippers' share prices up on August 23, which carried over to the week from August 23 to August 30.
Look outside the U.S. well
Article continues below advertisement
Although the U.S. market has been falling over the past few weeks, and it may continue to fall further, it's important to know that dry bulk shippers don't exactly follow the U.S. market. While the United States is the number-one economy in terms of GDP (gross domestic product), ~80% of it is driven by the service sector, which has a limited influence on world dry bulk trade. That isn't to say the world's economies don't tend to move together, but it's much more relevant for dry bulk investors to follow activity in Europe and China. Plus, it's often when the broad market is falling that investors can find which industries or companies are showing strength. And when the correction or short-term pull-back ends, these companies or industries will continue to run. These are called "leading" industries or companies.
Focus on industry indicators
Market Realist will once again go over some developments within the dry bulk industry that occurred between August 23 and 30. We'll also discuss some new data that were updated in early September. When the broad market falls, it's often a good idea to revisit how each industry is performing. Sometimes the market can be irrational and will sell anything when everyone is selling. But it also presents opportunities. On a side note, investors shouldn't be blinded by macro events that can affect industries in general.