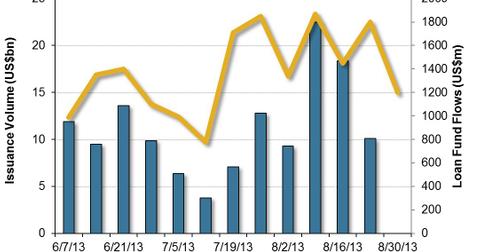 Loan flows highlight resilience and strength in leveraged loans
By Dale A. Norton

Updated
Strong and steady leveraged loan market
Finally, the leveraged loan market (BKLN) had an inflow of $1.2 billion USD, maintaining a very strong and steady pace for several months now. While this is lower than the $1.8 billion from the previous week, it marks the seventh week in a row of inflow above $1 billion.
Just during July, loan mutual funds expanded assets under management, AUM, at the record month-over-month growth rate of 7%. The total AUM are currently at a record level of $137.6 billion.
Article continues below advertisement
Year-to-date, the loan mutual funds have grown over 50%—or almost $47 billion. This breakneck pace will likely continue as loans keep outperforming both corporate investment-grade loans (BND) and high yield bonds (HYG). The start of quantitative easing tapering strengthens demand for loans and weakens demand for bonds.
Given investors' aversion towards high-duration (high-interest-rate-sensitivity) assets such as bonds, leveraged loans have been able to attract investor appetite despite their performance, which is usually partially dragged down by the bond market. Given that three-month Libor remains pegged around 0.3%, the floating rate of loans behaves like a fixed coupon, which would face duration risk. Nonetheless, duration is lower, and investors seem to favor these bonds. Read why here.