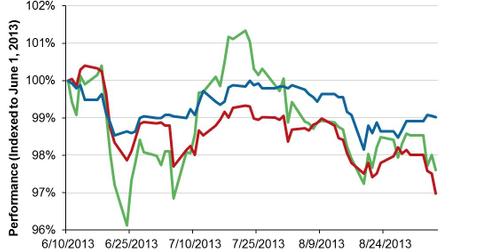 Fixed income markets rush ahead after a quiet end to August
By Dale A. Norton

Updated
Volumes null
As expected, the volumes during the last week of August slowed to a crawl across all fixed income sectors. There was no new issuance volume in investment-grade corporate bonds, high yield bonds, or leveraged loans. For high yield bonds, this was the second weak in a row with no issuance.
Year-to-date issuance therefore remained unchanged.
Corporate investment grade issuance: c. $43 billion
High yield bond issuance: c. $212 billion, still ahead of last year's $203 billion through the same time period
Leveraged loan issuance: c. $419 billion, getting close to catching with the $265 billion for the full 2012 year
Rush ahead
Across the board, issuers deferred issuance in the week preceding the Labor Day holiday—a week especially feeble given vacations for Wall Street. This is expected to change, as issuers may rush the first two weeks of September to issue before the Federal Reserve meets this month.
During the next FOMC (Federal Open Market Committee) meeting coming up on September  17 and 18, it's highly anticipated that the Fed will announce the start of quantitative easing. This will have a strong effect across markets globally, as it officially starts the end of cheap money.
Article continues below advertisement