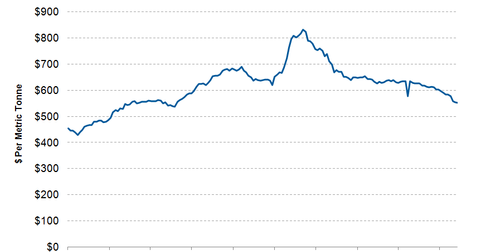 Retail urea price faces waterfall decline, negative for producers
By Xun Yao Chen

Updated
The significance of retail ammonia price
While wholesale prices affect producers' revenues, analysts use retail urea price to assess how expensive nitrogenous fertilizers are to farmers. Because farmers are also concerned about making profits, fertilizer prices can alter farmers' purchase behavior. When fertilizers becomes cheaper, farmers will buy more. But when fertilizer prices become more expensive, they can deter purchases.
Retail urea price entering waterfall decline
Article continues below advertisement
On August 23, U.S. urea retail price stood at $550 per metric tonne, which is a decline from $553 per metric tonne on August 16. The price looks to be entering a waterfall decline. Persistently high corn prices in the United States could have been the reason that supported relatively high prices, while prices for wholesale ammonia (a nitrogenous fertilizer used to make urea) have fallen by more than ~20% since the beginning of the year.
In its recent earnings call, Agrium Inc. (AGU), North America's largest farm retail supplier, expected solid demand for the second half of this year due to "positive grower sentiment, strong nutrient removal this year and the affordability of crop nutrients." But the company's comments remain questionable since corn prices have fallen ~30% this year due to a record production outlook. Plus, increased supply of urea from China will also add downward pressure on prices. This means retail fertilizer prices could fall further throughout the rest of the year.
Impact on several fertilizer companies
Article continues below advertisement
Even if farmers purchase more fertilizers, as the retail price of urea falls, the net impact will likely be negative. While relatively strong U.S. retail urea prices have supported Agrium Inc. (AGU) during the second quarter, it's more likely than not that these prices will have to come down for the remainder of this year. This will negatively impact Agrium's earnings more than other nitrogenous fertilizer producers, like CF Industries Inc. (CF), Terra Nitrogen Company LP (TNH), and Potash Corp. (POT), that only sell their products at wholesale prices.
Yet it's also important to know that CF Industries Inc. (CF) received favorable pricing for its fertilizers because of early orders. This means if retail prices were to fall more, they could pressure prices that wholesale producers can sell at as well. The VanEck Vectors Agribusiness ETF (MOO) will also be negatively affected.