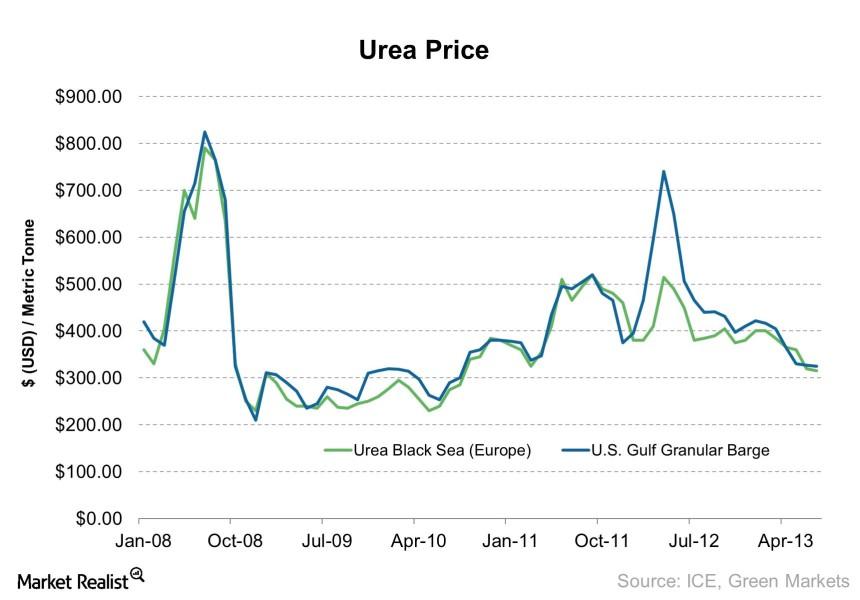 Must-know: China's July urea export shoots up to a record
By Xun Yao Chen

Dec. 4 2020, Updated 10:53 a.m. ET
Increased supply will drive exports to a record
Given the increased supply, Chinese firms have been exporting some of their urea, a type of nitrogenous fertilizer. While exports have historically remained close to zero during the busy season, export activity was above 200,000 metric tonnes per month this year, which suggests domestic manufacturers are willing to sell some urea during the busy season, signaling excess supply. And in July, we just saw the largest amount of urea export coming out of China, amounting to 1,315—a record for July.
Global urea prices pressured
Article continues below advertisement
The possibility of another record round of exports from Chinese manufacturers has pressured global urea prices recently. Prices for urea in the United States and Europe remained close to $400 per metric tonne from 2011 to 2012, as high coal prices kept Chinese manufacturers at bay, making Eastern Europe and former Soviet Union producers' cost the floor for fertilizer prices (see Part 1). But given the possibility of a higher export volume this year, prices have fallen to ~$320 per metric tonne in July. In April, the world's largest nitrogenous fertilizer manufacturer, Yara International ASA, cautioned a tough year for nitrogenous fertilizers because lower sales prices cut into margins and earnings.
Outlook
Because China's urea prices have historically declined during the off season, global urea prices will likely remain under pressure until the end of this year. This will also affect ammonia, another type of nitrogenous fertilizer that's used to make urea, as ammonia demand will fall. While several coal mining firms are experiencing falling profitability, which will lead to some production cuts, the tumbling Australian dollar (which makes Australian producers much more competitive in the global market) will continue to drive production and pressure prices. Accordingly, China's urea operating rate will remain elevated, making the country a potential price-setter of global nitrogenous fertilizer prices (see Part 1).
Although lower coal prices will also support the case for lower natural gas prices in the United States, as several utility companies have the option to switch back and forth between coal and natural gas electric generation, an increase in competition will pressure sales prices to a larger extent. This would continue to be negative for manufacturers in the United States, such as CF Industries Holdings Inc. (CF), Terra Nitrogen Company LP (TNH), Potash Corp. (POT), and Agrium Inc. (AGU). The VanEck Vectors AgriBusiness ETF (MOO) will also be negatively affected.