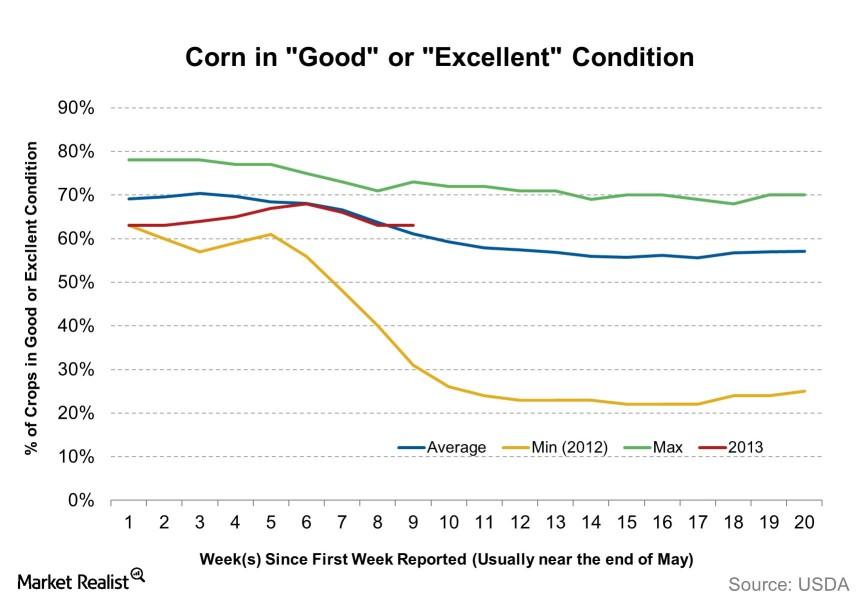 Corn in good shape, but potential negative for fertilizers next year
By Xun Yao Chen

Dec. 4 2020, Updated 10:53 a.m. ET
Crop condition
Crop condition is an indicator published every week by the United States Department of Agriculture (USDA) during the planting and harvest season. The indicator is useful in estimating the yield that farmers will be able to harvest this year. Solid percentages often point to strong crop production, which tends to alleviate pressure on the global stock-to-use ratio—another key indicator watched by agriculture investors, analysts, and traders. On the other hand, low percentages often point to a weak production year, which can push corn prices up and increase demand for fertilizers in the following year.
Condition remains favorable
Article continues below advertisement
Crop condition is released every week on Monday and reflects data for the previous week. For the week ending July 26, the USDA reported that 63% of corns planted so far were in good shape. As corn uses the bulk of fertilizers in the United States, it's the most important crop to follow. Favorable weather and strong demand for potash by U.S. farmers earlier this year are the likely reasons for the high number. Last year, when the United States saw a record number of hot days, which led to a severe drought across the country, several crops were badly damaged. As a result, the percentage of crops in good or excellent condition fell from 60% to just above 20%.
Record corn output
Given the record number of area used for corn plantation this year, the United States just might produce a record number of corn this year. The USDA agrees, with estimates of 13.95 billion bushels of corn output for this year, which is ~850 million more than the planting year 2009–2010. As a result, global stock-to-use ratio is expected to recover this year, and corn prices will end lower than last year's if the current trend continues.
Effect on fertilizers
Although this fall in corn prices will be positive for consumers and food companies such as McDonalds and Wendy's, it could negatively affect fertilizer companies such as CF Industries Holdings Inc. (CF), Potash Corp. (POT), Agrium Inc. (AGU), and Mosaic Co. (MOS) because farmers may be discouraged from using as much fertilizer as they did this year, given lower crop prices for next year. The VanEck Vectors Agribusiness ETF (MOO), which invests in various businesses within the agriculture industry, will also be negatively affected unless production is disrupted later this year and demand soars.