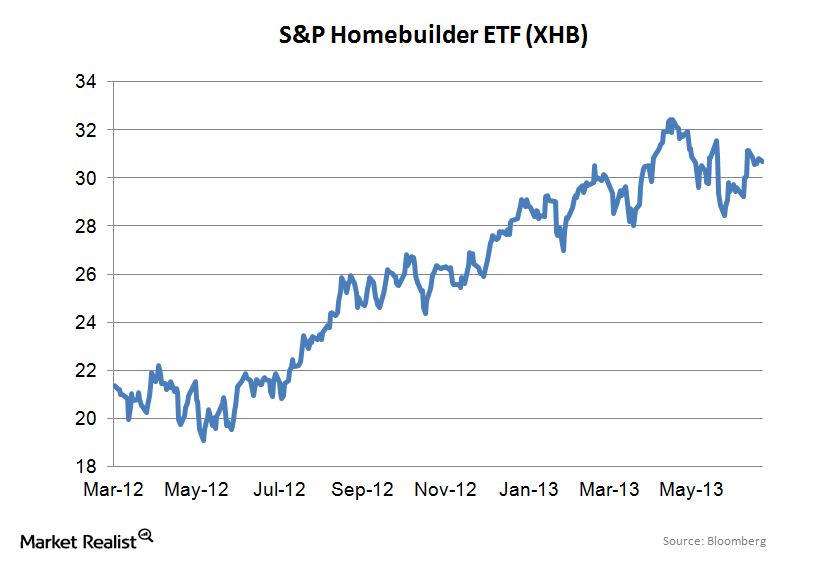 How to think about upcoming homebuilder earnings (Part 2)
By Brent Nyitray, CFA, MBA

Nov. 20 2020, Updated 12:31 p.m. ET
Back to Part 1
Revenues for the homebuilding sector have been increasing at a rapid rate
So far, we've seen huge revenue growth from the builders that have already reported second quarter earnings. KB Home (KBH) reported a 73% year-over-year increase in revenues, while Lennar (LEN) reported a 53% jump. NVR Corp (NVR) reported a 31% increase. These are atypical increases and represent the fact that the housing sector bottomed in early 2012. When you look at homebuilders, focus on the year-over-year growth and not the quarter-over-quarter growth. Homebuilding is a seasonal business, and quarterly growth rates don't really tell you much.
Top line metrics to watch
While the top line growth is probably the most important (and visible) number, some of the other metrics are extremely useful too.
Article continues below advertisement
Order growth
Order growth helps give the analyst an idea of what next quarter's number will look like (and that's the number we really care about). So, if revenues increase dramatically, but order growth is flat, that tells you that demand has slowed down. For second quarter earnings, this is probably one of the most important metrics the analyst community will watch, because it addresses the question has demand slowed because of the increase in interest rates?

Cancellations
The order growth number is important, but you also have to pay attention to the cancellation rate. These are cancelled orders for homes. Again, the analyst community will be watching the cancellation rates to see if people are having second thoughts about buying a home after interest rates have risen so much.
Backlog
Backlog is the measure of homes that are currently in construction but aren't yet completed. In other words, it's another measure analysts use to predict future revenues. The analysis is similar to the new order analysis—you want to focus on the rate of change of revenues versus backlog. If backlog is increasing and revenues are increasing as well, ask yourself if the builder needs to hire more people. If so, that could affect margins going forward. If backlog is dropping, while revenues are increasing, it indicates that the pipeline is drying up.
Ancillary services
Many homebuilders have real estate–related business, such as lending and title services. While these are not a major part of revenues, they are something to watch.
This analysis continues in How to think about upcoming homebuilder earnings (Part 3).