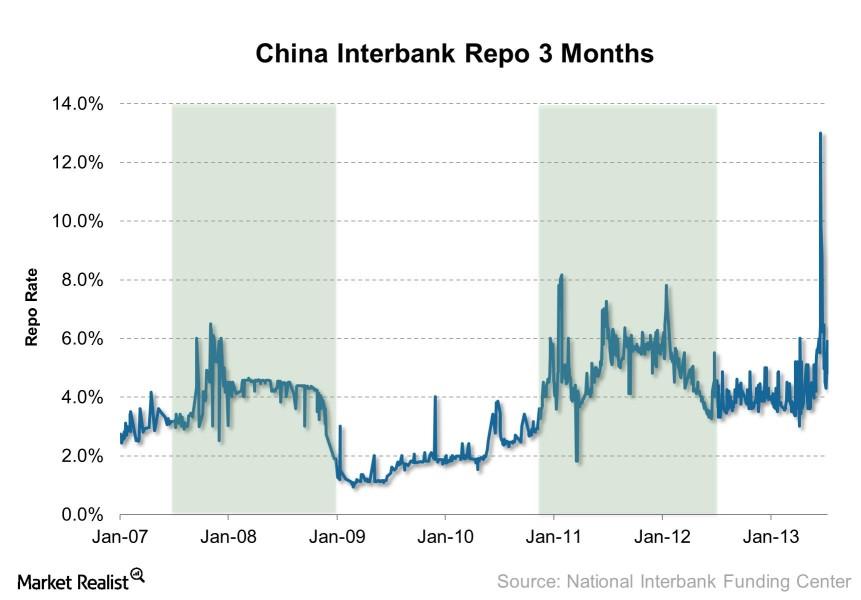 Why credit default swap affects dry bulk shipping stocks (Part 2)
By Xun Yao Chen

Oct. 29 2019, Updated 4:06 p.m. ET
Continued from Part 1
Is the risk of China's economic collapse over?
The recent decline in credit default swap (CDS) prices reflects a sense that there's less probability China's economy will collapse, as the central bank injected capital into banks to bring the interbank repo rates down. But is the risk over? History suggests not yet.
Credit default swap and interest rates
In the past, price increases in credit default swaps have followed or mirrored liquidity issues (that is, cash crunches) within the country's financial system. For example, starting in 2007, interbank repo rates rose as China's economy started to overheat due to excessive lending. The central bank increased the interest rate to cool the rates down. Due to both excessive lending and tightening measures, interbank repo rates rose higher and stood high.
Article continues below advertisement
As economic growth started to stall and industrial profits began to decline, credit default swaps also rose—from $25 at the end of 2007 to near $250 a year later. Although liquidity issues temporarily relieved when lower inflation due to falling economic growth allowed the central bank to loosen interest rates and inject capital into the financial system, relief doesn't always lead straight to economic expansion. So prices for credit default swap only stopped climbing at the end of 2008.
Implications for dry bulk shipping
Since credit default swaps reflect the fundamentals of China's entire economy, while the interbank repo rate reflects the fundamentals of China's financial system, investors can use the price of CDS to confirm the end of a downtrend. As it took a few months for prices of CDS to fall in 2008 and 2011, historical patterns show that fundamentals will likely worsen for a few months.
In the short term (and perhaps medium term), this is a negative and presents a risk for dry bulk shipping companies, whose demand ties closely to China's economy. Despite the recent fall in China's interbank repo rates, companies such as DryShips Inc. (DRYS), Eagle Bulk Shipping Inc. (EGLE), Diana Shipping Inc. (DSX), Navios Maritime Partners LP (NMM), and Safe Bulkers Inc. (SB) will likely face headwinds over the next few weeks. However, investors can use this indicator to time their entry into these shipping companies in the future.
To see other key drivers that affect the marine shipping industry, visit our driver page, Marine Shipping. For other industries currently available, see our Home Page.