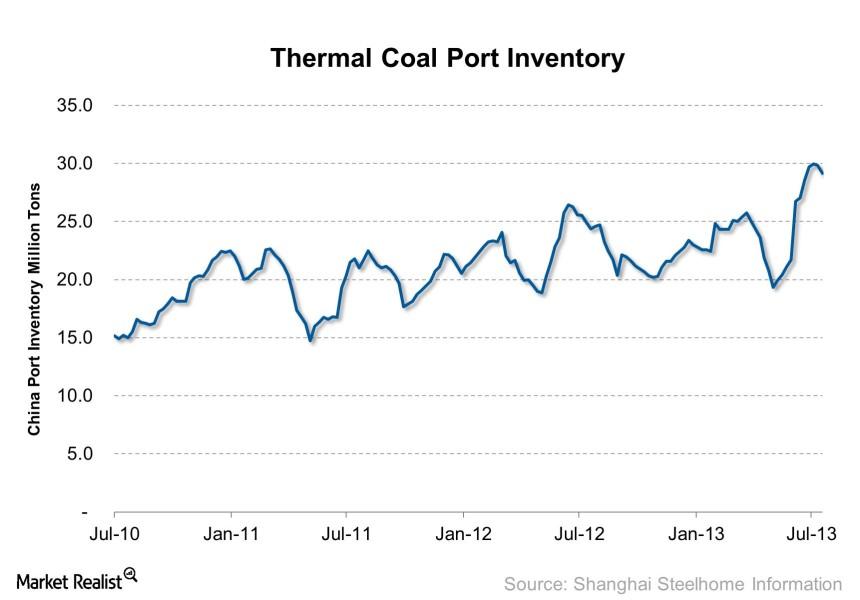 Thermal coal inventory rolling over, negative implication for dry bulk shippers
By Xun Yao Chen

Nov. 21 2019, Updated 8:48 p.m. ET
Inventory levels and shipping rates
Inventory levels for thermal coal at Chinese ports reflect the safety net that companies decide to hold, as well as the difference in expected and actual demand. When inventory falls to a specific amount, imports often rise as companies seek to replenish stock. Higher imports cause higher shipping rates (in Capesize and Panamax-sized ships in particular) which means higher revenues, earnings, and free cash flows for dry bulk shipping firms.
Port inventory has further room for decline
Article continues below advertisement
According to Shanghai Steelhome Information, total inventory for thermal coal at Chinese ports stood at 29.10 million tons on Friday, July 19th. This was slightly lower than the 29.80 million tons reported on July 12th, but it has much more room to fall. As was mentioned in previous articles, total inventory for thermal coal at Chinese ports tends to rise due to higher imports, which are driven by seasonality.
Demand for thermal coal often rises in March and July through August as people crank on their heaters or air conditioning to live more comfortably during the cold winter and hot summer. But as the weather becomes milder, demand for electricity falls, and so do imports of thermal coal. Last year, inventory peaked out around mid-June at 26 million tons. This year, the relative cheapness of imported coal to domestic coal has also added to higher thermal coal imports.
Negative impact on shippers
As seasonality comes to an end, thermal coal imports will likely fall. If this is the case, the fall will negatively affect shipping rates for a while. Lower thermal coal, which makes up at least 4% of total dry bulk shipping volume, could be a short-term negative for dry bulk shipping companies, such as DryShips Inc. (DRYS), Diana Shipping Inc. (DSX), Safe Bulkers Inc. (SB), Eagle Bulk Shipping Inc. (EGLE), and Navios Maritime Partners LP (NMM).
Nonetheless, investors should know that other drivers, such as those under our Marine Shipping Page, may outweigh the negative impact of lower thermal coal imports.