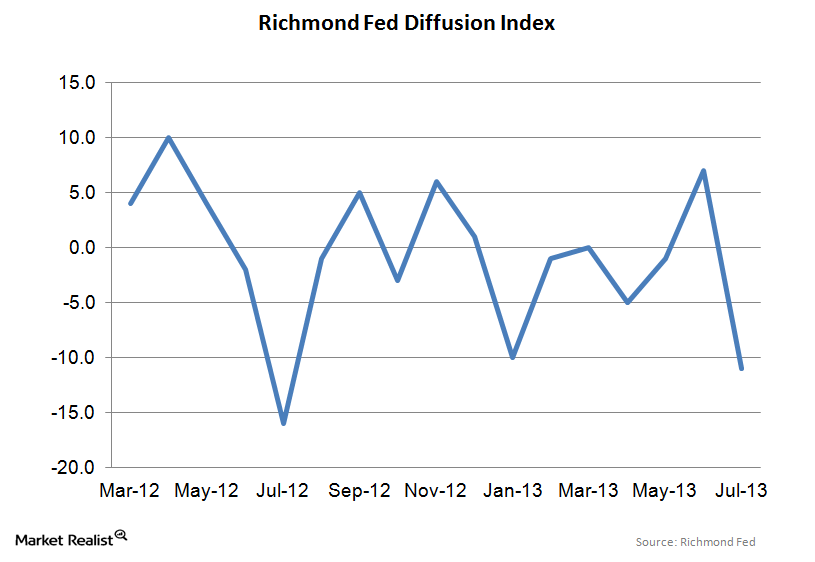 Richmond Fed Manufacturing Survey dives in July, homebuilders unaffected
By Brent Nyitray, CFA, MBA

Nov. 20 2020, Updated 1:28 p.m. ET
The Richmond Fed Manufacturing Survey looks at business conditions in the Fed's fifth district, which covers Washington, DC, Baltimore, Richmond, and Charlotte
The Richmond Fed Manufacturing Survey is sent out to companies in the Mid-Atlantic states and covers current business conditions, shipments, new orders, backlog, and inventory. It's similar to the other surveys put out by some of the other Federal Reserve districts, like the Chicago Fed National Activity Index and the Empire State Manufacturing Survey. It weights shipments 33%, new orders 40%, and employment 27%. It also asks respondents about their forecast for the next six months. While it isn't necessarily a market-moving index, it provides a top-down view of how the economy in general is doing, at least in the Mid-Atlantic region. It's important to note that Washington, DC, is part of the index, and business there ties heavily to government spending, which may or may not correlate with economic growth.
Manufacturing activity eased somewhat in July, but the outlook remains optimistic
Article continues below advertisement
The index of overall activity fell 18 points in June after spiking in May. Shipments and new orders drove the decline, as shipments dropped 26 points to -15. Capacity utilization declined, along with backlog, and inventories grew slightly. Overall, the current activity showed a sharp decline. Many participants noted that raw material pricing was increasing, and finished goods pricing finally rose as well. For the last few surveys, manufacturers haven't been able to pass along price increases to customers. This may be changing, which would be music to the ears of the Fed. Regarding the outlook, respondents were slightly more optimistic about the future than they were a month ago. The index for expected orders and shipments rose to 24, while expectations for future hiring dipped from nine to five.
Implications for homebuilders
Overall, the report shows the economy stuck in neutral—at least in the Mid-Atlantic region. This index is notoriously volatile, so it's important to look for trends, and at the moment, there doesn't appear to be any. The homebuilder with the most exposure to the Richmond area is NVR Corp (NVR), which reported earnings in line with expectations and decent revenue growth.
Overall increases in business activity and consumption are starting to drive more business for homebuilders, like Lennar (LEN), KB Homes (KBH), Toll Brothers (TOL), and Standard Pacific (SPF). Housing starts have started to fall again, but it appears that multi-family construction is driving the decline. Generally, starts have been so low for so long that there's some real pent-up demand that will unleash as the economy improves. The secular (long-term) story for homebuilders is optimistic—household formation numbers will be a real wind at their backs.