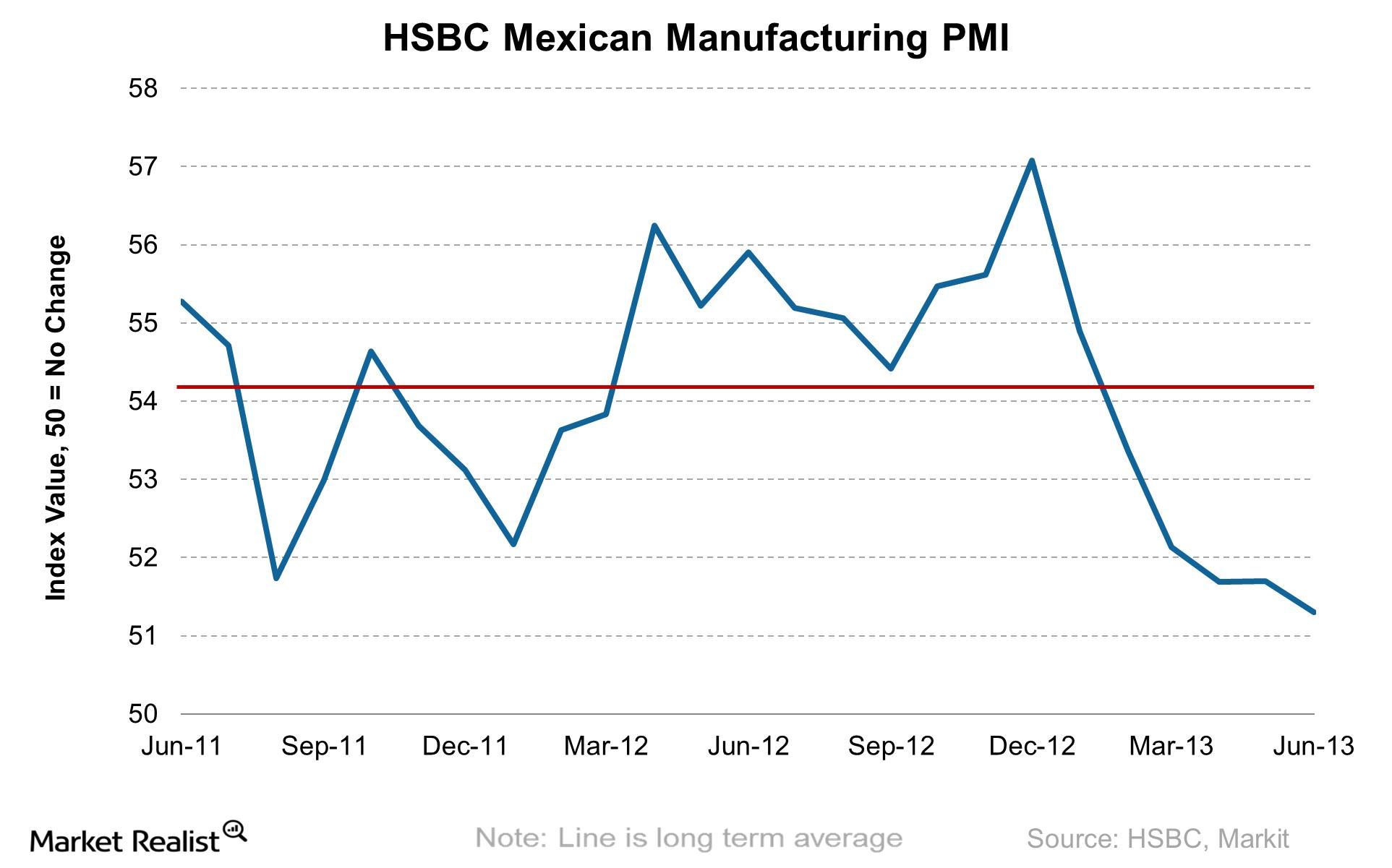 Why Mexico's economic slide continues and a recovery isn't happening (Part 1)
By Dale A. Norton, ME

Nov. 20 2020, Updated 11:24 a.m. ET
The survey is at its lowest point since it started slightly over two years ago
The Purchasing Managers Index (PMI) measures several items along the manufacturing supply chain, including new orders, production, inventory levels, prices, and employment. The PMI serves as a leading indicator of the economy's near-term performance, so economists and financial analysts closely follow the index.
The June PMI continued the downward slide that began when the year started. The value came in at 51.3, which is a further drop from the 51.7 in May. This is the lowest value ever recorded for the survey, which started to be collected in Mexico in the spring of 2011.
Article continues below advertisement
Sergio Martin, HSBC's chief economist in Mexico, stated, "This confirms that the loss of steam in the manufacturing sector will prevail in the second quarter. In addition, it is consistent with our uneven GDP growth path for this year, which foresees a moderate growth in 1H13, followed by a gradual recovery for the 2H13."
Alive, but barely kicking
While most indicators were able to remain above the 50 point neutral growth line, the rates of growth were the lowest or among the lowest ever recorded.
New work orders were the lowest ever in the series, and new export orders remained under 50 for the second month in a row, signaling a contraction in the amount of foreign business. The report cites weak economic conditions in key export markets. Mexico's main export partner is the United States, which accounts for just under 80% of its exports. About a quarter of Mexico's exports are in the auto sector and related industries. A recent uptick in car sales worldwide may help Mexico in the next PMI reading.
Production output was the weakest year to date, even though companies were able to run down their backlog of work. Actually, the backlog dropped at the fastest rate we've seen since last fall despite production growth being at its weakest rate. This data highlights the weakness in future demand and lack of confidence in future outlook since both input purchases and inventory levels remained unchanged.
Margins squeezing and weak employment
This analysis continues in Part 2, which will follow this afternoon.