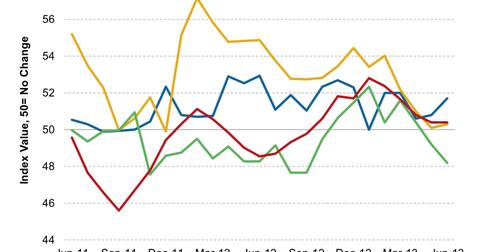 Asia drags HSBC's EM Index lower and future output reaches new lows
By Dale A. Norton, ME

Updated
The EM index showed a slow down, led by China and its neighbors
The Emerging Markets Index is composed of the Manufacturing and Services PMIs for all the emerging markets covered by HSBC and Markit. The recent surveys pointed to slow downs around the emerging markets world, with particular emphasis on the BRICs.
The output index was down across the board, with China showing a slight contraction for the first time in almost a year. Manufacturing production was down and services marginally up. The other BRICs all showed sluggish production growth rates.
New business volume was relatively unchanged versus last month, mainly dragged down by manufacturing orders. The services sector offset some of the drop in manufacturing.
Employment remained fragile, yet maintained positive growth very close to that in May.
Inflation of costs accelerated, in part driven by rising commodities, yet the pace remained the second lowest in the past four years.
Article continues below advertisement
Stephen King, HSBC's Chief Economist stated:
"China's relative economic weakness in June was not just reflected in soft manufacturing output. Within the latest EMI, there is evidence of widespread deceleration: Chinese manufacturing orders and employment both dropped to 47.6 and exports stood at a mere 44.9."
The Future Output Index fell to the lowest rate since the series was started in April 2012. The sentiment was weaker in both manufacturing and services.
Asia, Russia and the Middle East showed weakened expectations, though improved in Latin America and Central Europe.
Emerging markets remains a tricky play in the current environment due to several factors:
The U.S. Fed's intention to taper monetary easing soon, which led to severe FX fluctuations and fund flow reversals from emerging markets
China's government stance on implementing reforms rather than administering economic stimulus, causing a prolonged lower global demand
Europe remains weak and the U.S. economic recovery is taking longer than expected, contributing to the weak global trade
For these reasons, playing emerging markets now by individual company selection would be more advisable than gambling on overall macro conditions.