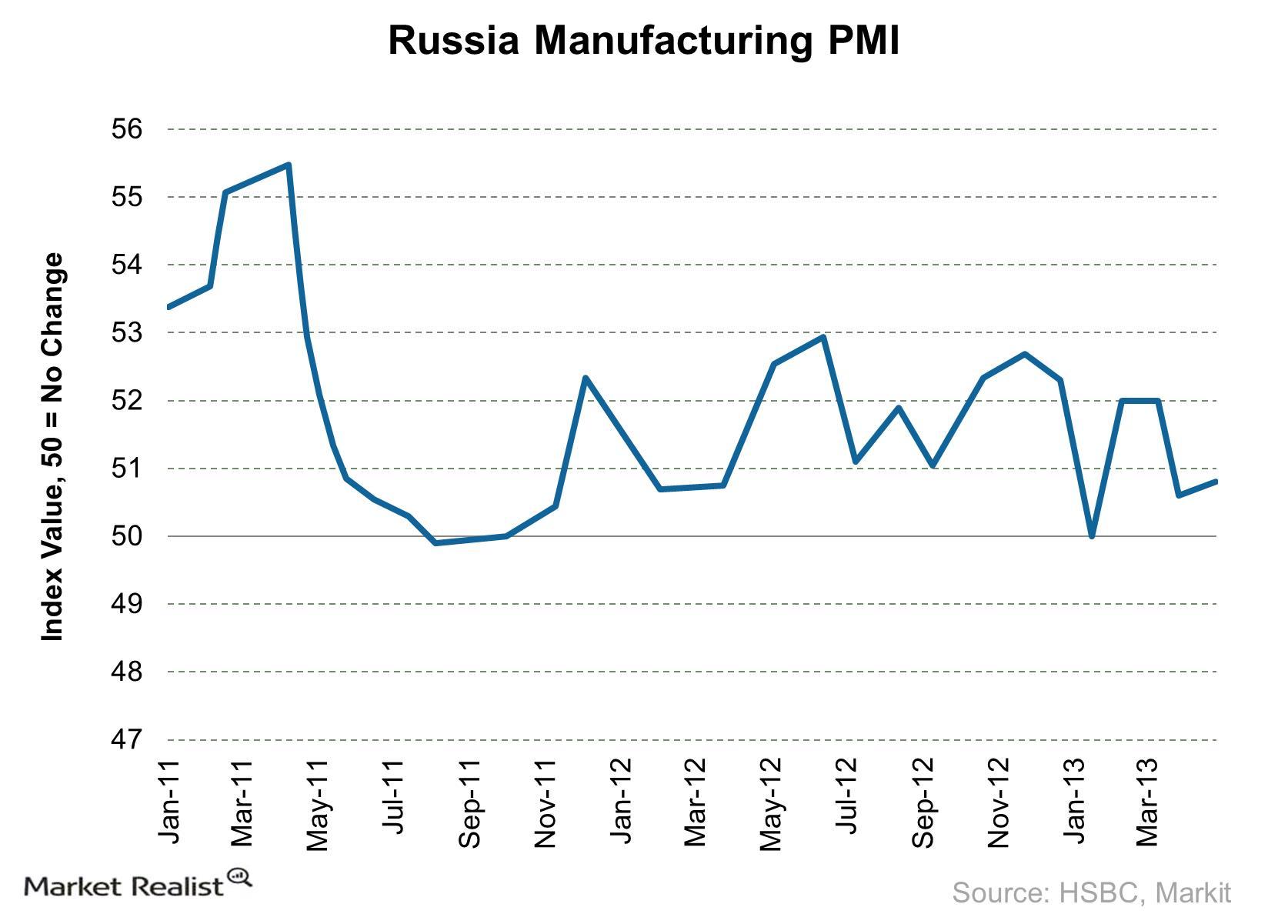 Russia's PMI grim picture getting worse, but some see hope
By Dale A. Norton, ME

Dec. 4 2020, Updated 10:53 a.m. ET
Several worsening conditions lead Russia's PMI closer to the 50 point neutral line.
The PMI index is a closely followed leading indicator of a country's manufacturing sector which can offer insight into the economy's overall economic cycle. Russia's PMI for last month was weak and this month's data continued the gloom and doom.
The PMI is now at 50.4, down from 50.6 in April. Employment contracted for the seventh month in a row as companies continued to shed the spare capacity created by the increase in backlogs.
As was the case with India, inflationary pressures continued to squeeze margins. Both input prices and prices charged increased, though input prices increased at the fastest rate this year. This further reduces the chance of the rates cut widely asked by politicians.
Outlook
Overall, the only obvious spot was the increase in export orders, which suggests that an increase in global trade may soon start to jump-start Russia's economy. The high inflation and still tepid growth argues against a rates cut, which may cause the market to become impatient.
HSBC's Alexander Morozov, Chief Economist for Russia, had a more optimistic view though, highlighting exports as well as the recent industrial production figures which pointed to a strong recovery in investment goods.
Article continues below advertisement
Overall, the PMI survey's results are rather conflicting and concealing the prevailing trend, we think. [..] Indeed, if investment and consumer goods sectors continue growing, the intermediary goods sector would likely improve its performance too. Besides, we have to note that unusually long public holidays in May this year might have negative implications on key PMI indexes
Morozov also agreed that the minor expansion in manufacturing argues against immediate use of monetary policy.