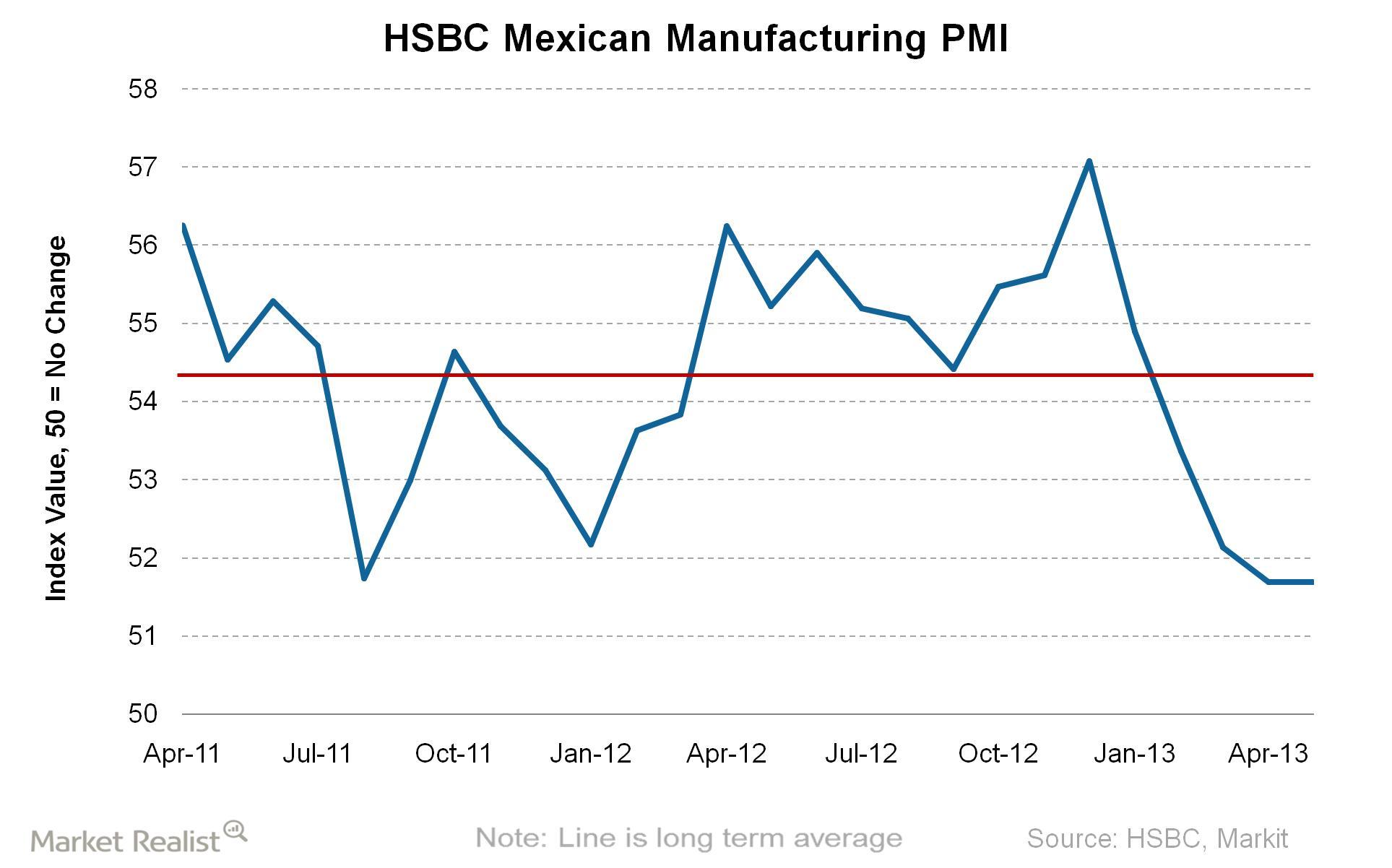 Mexico's manufacturing sector flat during May: bottom reached or further downside?
By Dale A. Norton, ME

Nov. 20 2020, Updated 2:09 p.m. ET
The May PMI survey for Mexico showed growth at the same rate as in May, possibly implying the bottom has been reached or instead that further pains are ahead.
The Purchasing Managers Index is a survey that measures the sentiment regarding several elements across the logistics supply chain. It measures growth on items such as output growth, new orders, price inflation, employment, backlogs, etc.
Mexico is an interesting case since it is highly dependent on the U.S. economy, which means it rode the recovery hype in 2012 and then lost steam as recovery stagnated in 2013. It is a highly industrialized economy with significant industrial exports, which means it is very sensitive to global trade activity and commodity prices as well.
Furthermore, the market is considered overvalued by some and its current BBB rating relative to Latam peers, though could see further upside if the government reforms are effectively implemented and the country gets upgraded to A-.
No bottom, pains ahead more likely
Article continues below advertisement
The 51.7 level for PMI for April and May is the lowest since the index was started in April 2011. Given weakness in other indicators such as the industry surveyor the fixed capital formation, the data may imply that the economy will remain weak for much of Q2 rather than bounce back to end of 2012 levels.
Sergio Martin, Chief Economist at HSBC in Mexico, said:
"The HSBC Mexico Manufacturing PMI remained for the second month in a row at 51.7 in May. This is the lowest reading since August 2011, suggesting that weakness in the manufacturing sector will prevail in the second quarter. Consequently, we have revised our GDP growth forecast for this year to 2.9% from 3.2% expected previously."
The downward revision of the GDP forecast by HSBC economists suggests that optimism about the economy is relatively weak. The acceleration of output was positive, but it comes in contrast to increased cost pressures, lower exports and slower hiring.
The market needs a catalyst to get some hope, or else it will continue to fall as it has done since mid-April. In the medium-term our view may turn more bullish, though as of right now there is not much in Mexico to get excited about.