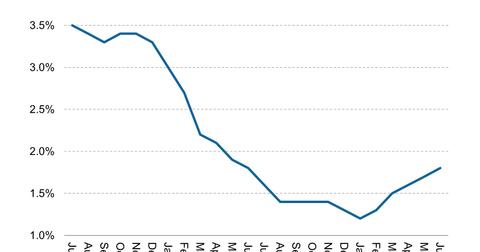 Malaysian inflation creeping up, but low; rates to remain steady
By Dale A. Norton

Updated
The consumer price index in Malaysia continued its steady increase since the year started, keeping a pace low enough to prevent any rates hike in the short-term. 
The consumer price index is the index by which most countries measure their inflation. It is composed of a basic basket of consumer products ranging from basic groceries to fuel.
The trailing 12-month inflation is now at 1.8%, up from 1.7% in May, which is in line with the 0.1 percentage point increase observed every month since January. At this pace, inflation will reach 2.5% by the end of the year, which is well below the target of the Central Bank and with a healthy slow uptrend. 
Inflation bottomed in December 2012, when it dropped to 1.2% after several months at a slightly higher rate. The drop towards the end of the year was causing concerns of deflation. The current level is the lowest in 11 months.
Currency starting to devaluate
After a relatively stable foreign exchange rate during the first quarter of the year, the ringgit started devaluating in May. The drop in value, though, was not driven by consumer inflation, but rather by the reelection of the ruling party in May.
The reelection means that the much needed reforms to restrain the budget are less likely to be passed by the government. Nonetheless, the new government pledged to maintain a target 4% budget deficit, which may only be achievable by end of year if at least some fuel subsidies are cut.
Article continues below advertisement
Since May, the ringgit has dropped approximately 7%, which has contributed significantly to the drop of almost 11% in EWM, the dollar denominated ETF tracking the MSCI Malaysia Index. Aside from the currency component of the decrease, the market has drop due to the slow down in China, which has spurred an investor migration away from emerging markets in general.
Outlook
In the short-term, it may be hard for the government to actually reduce the subsidies, though by end of year some action is likely. The main factor right now is really the inaction by the Chinese government, which has opted for long term reforms rather than short-term monetary stimulus.
Until there is a positive catalyst in sight, it is hard to be in favor of investing in this market.