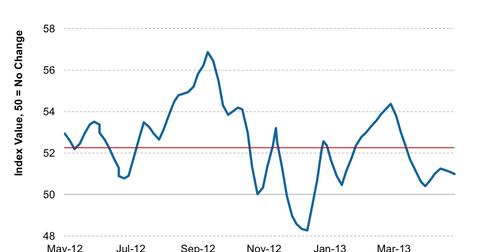 India Services PMI spikes to 3-month high, offsetting manufacturing slow down
By Dale A. Norton, ME

Updated
Services business activity moved almost three points to reach 53.6 in May
The Services PMI is the counterpart to the Manufacturing PMI. They are both based on surveys to managers in the respective sector to compare the current situation of several indicators versus the prior month. Observing both the Manufacturing and Services PMIs allows a more holistic view of the economic situation of a country. The Services PMI is particularly useful for countries with a large services sector, as is the case for India, where the sector accounts for more than half of GDP.
The May Services report was a sharp contrast versus the Manufacturing PMI, which showed a contraction for May after falling below the 50 point neutral growth line. Services rebounded strongly from a 50.7 in April to a 53.6 in May, which was the fastest rate in three months.
Article continues below advertisement
The increase in new work orders was higher within the private sector, where anecdotal evidence revealed that demand was stronger. Employment growth within the private sector remained stable as well, with increases in line with business expansion. Naturally, optimism was observed among service providers, with the outlook sentiment at a five month high.
Leif Eskesen, Chief Economist for India & ASEAN at HSBC, said:
"Service sector activity picked up pace in May led by firmer order flows. Moreover, companies were more optimistic about the domestic and global economic outlook. Notwithstanding the uptick in growth, inflation gauges eased further on the back of strong competition and moderating cost pressures. With growth still moderate and inflation softening, the probability of another RBI rate cut has increased."