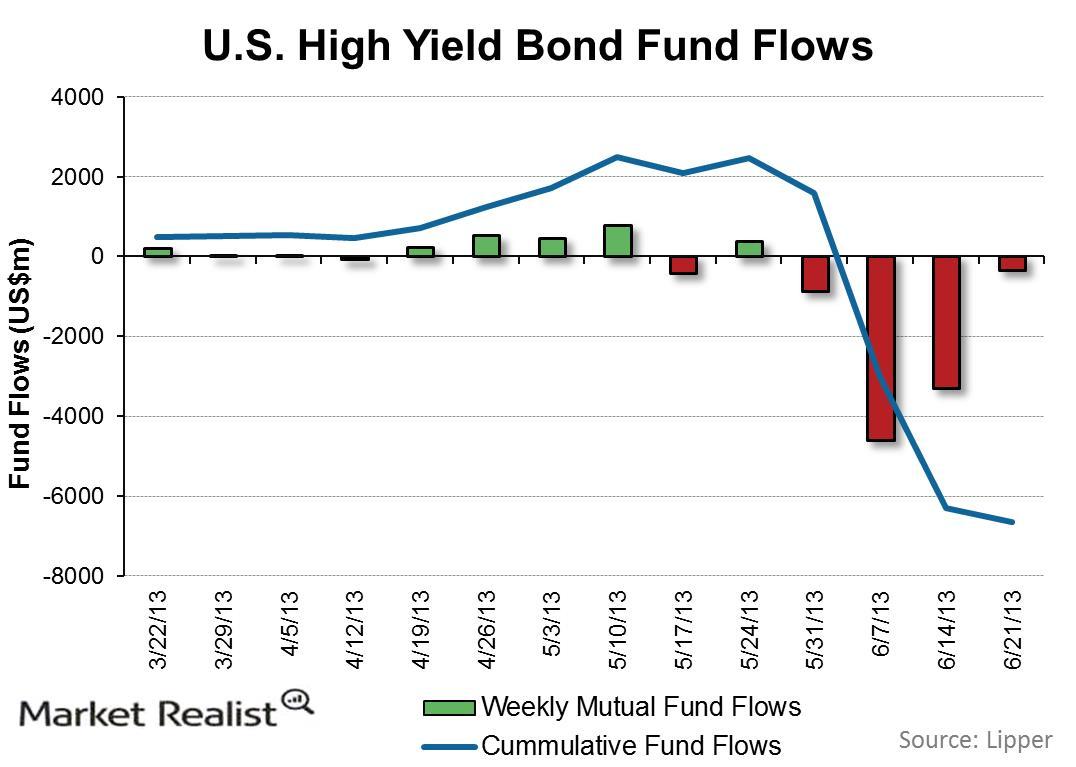 High yield bleeding slows, but is there anything left to drain out?
By Dale A. Norton

Nov. 20 2020, Updated 4:06 p.m. ET
In just four weeks, the high yield bond flows amounted $9 billion in outflows.
Fund flows are a good gauge of investor sentiment towards an asset class. Large outflows, such as the $900 billion one four weeks ago, should have been a good enough warning sign that something was going on, even if you were completely disconnected from what was going on at the Fed.
The following two weeks the high yield bond flows saw their largest ever consecutive fund outflows and prices started to collapse, making a final drop last week after Bernanke made post FOMC[1. Federal Open Market Committee] statements about quantitative easing tapering.
Over the past month, JNK and HYG, the most popular high yield ETFs, dropped 5%. This drop is unlikely to fully recover given changed expectations of interest rates.
Fund flows lower, but what's left to take out?
In short, a lot remains. The high yield market is composed of is $1.4 trillion in bonds, which will not disappear overnight.
Last week, fund flows continued to drain the high yield funds, with an additional $333 million fleeing the asset class. In total, in just four weeks, flows amounted to $9.1 billion.
Article continues below advertisement
Some experts argue, though, that the money that left is the speculative money that came into the asset class recently in search for new yields, unlike the sticky money that invests in bonds for the long term. This would imply a floor value to bonds as long investors will have to continue buying high yield bonds to replace maturing ones.
This could be true, but $9 billion is a drop compared to the $1.4 trillion outstanding high yield bonds. There could be more room for further outflows, and if $9 billion moved the market 5%, how about $20 or $50 billion? Keep in mind these flows are not counting flows out of ETFs, only mutual funds, which means they represent a trend and not an absolute number.
But realistically this cannot occur for two reasons. The first is that bond flows are at historical highs, and investors just do not move money in or out of funds at such great levels in a sustained manner. The second is that as rates go up, bonds may become more attractive versus low dividend paying stocks, and this means investors will demand bonds again.
So what now? Read on [Part 2]