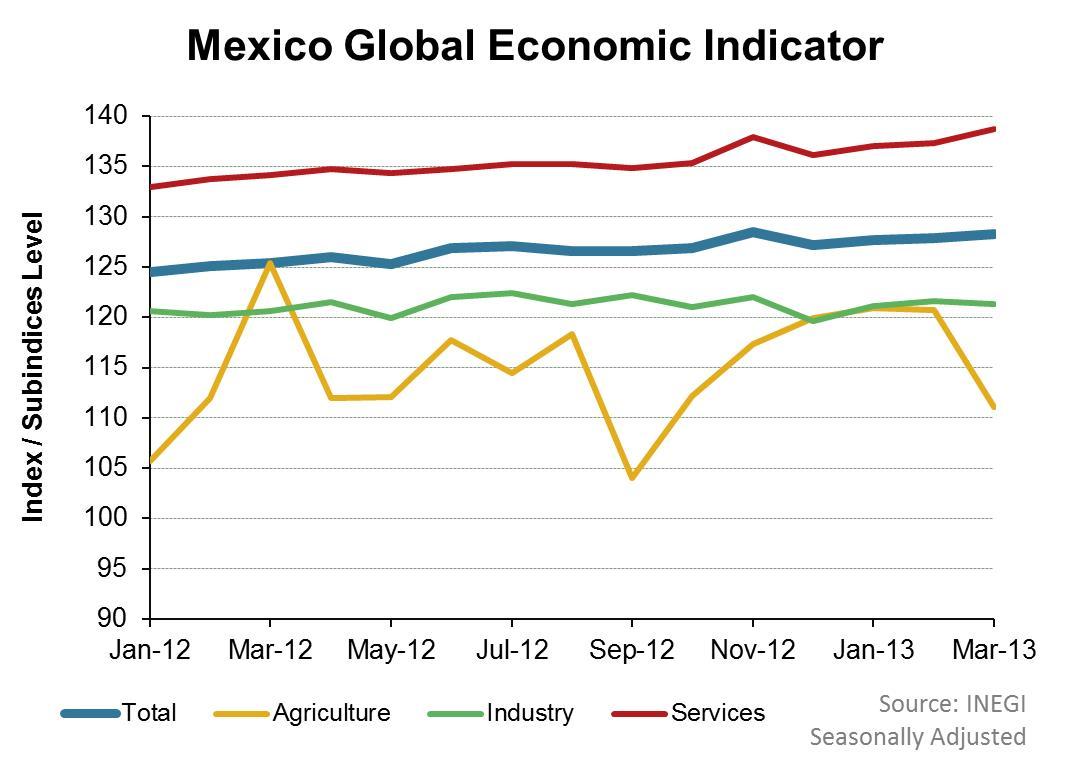 Mexican economic recovery dragged down by industry and agriculture
By Dale A. Norton, ME

Nov. 20 2020, Updated 3:09 p.m. ET
Despite signs of recovery within the services sector, the agricultural and industrial sectors are dragging down economic growth.
The global economic indicator, as published by the Mexican Institute for Statistics and Geography, registered the third mild growth of the year in March. Despite its lagging nature, the indicator offers insight into how each of the three main sectors of the economy are performing.
Mexico's economy is driven by consumer spending. According to the World Bank, household consumption accounts for approximately 64% of Mexico's GDP. The global economic indicator indices allow to discern between growth in the industrial and agricultural sector and growth in the services sector.
Services sector leading recovery
Month-over-month growth posted a 0.25% increase in March despite the large drop in the agricultural sector, which dropped 8% in March. The industrial sector, which is largely composed of the auto industry, posted a decrease of 0.3%, reversing the gain of 0.43% the prior month.
Given the large share of the services sector in Mexico's GDP, the overall indicator was able to post a marginal increase for the month.
On a yearly basis, the data looks very depressing. The indicator dropped 1.8%, which is the first negative growth value looking back to at least January 2010. While March last year was higher than adjacent months and, hence, established a high base, it is hard not to read the data as negative.
Outlook
Article continues below advertisement
It is important to keep in mind that the global economic indicator offers good insight into how the three main sectors are performing currently and offers little indication of future performance. Given the March and April manufacturing PMIs were negative, it is likely that performance in coming months will be – at best – sluggish.
The data does imply that the services sector is holding the economy afloat, which means as long as consumer spending remains resilient, Mexico should be able to avoid a double dip in the short-term.