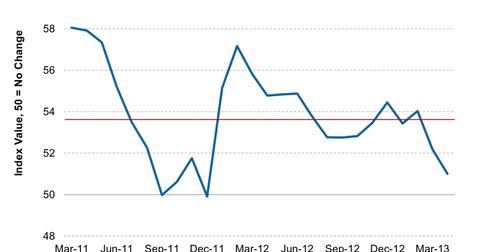 India fully on board the EM slowdown train, will it get off soon?
By Dale A. Norton

Updated
While China is the conductor, India is riding in the front seat
India's PMI is starting to sound like a broken record: India is losing momentum. India's biggest blessing is its large consumer base eager to start spending, but its greatest curse is the lack of basic infrastructure to unleash it.
The output index dropped to a 49-month low, which is the lowest point in over four years. The index is now at 51.0 as a result of lower performance across all five key components of the PMI. 
The Chief Economist for India & ASEAN said:
"Manufacturing activity lost momentum again in April, with output growth slowing further on the back of a deceleration in domestic orders and continued power outages."
Down across the board
Article continues below advertisement
The new orders index was at its lowest value since September 2011, showing that domestic demand has nearly slowed to a halt. Pre-production inventories grew slightly as production slowed down. Additionally, only 3% of survey respondent mentioned that employment was up, hence this index also plummeted below the mid 2012 drop.
Both input and output prices are down, mainly due to the low demand. This, at least, is positive news since it opens the door for monetary easing. Previously inflation was too high to lower interest rates.
Is this the bottom?
While it all sounds like doom and gloom, the fact that new export orders are picking up and inflation finally seems to have started to subside has allowed the Royal Bank of India to cut interest rates by 25 bps to boost the 4-year low growth.
If the rates cut works, India may soon start to accelerate again, though it may be prudent to wait and see for a little longer before jumping all in. If the rates cut works, by year end India may be very strong. An entry in the near future would be feasible.