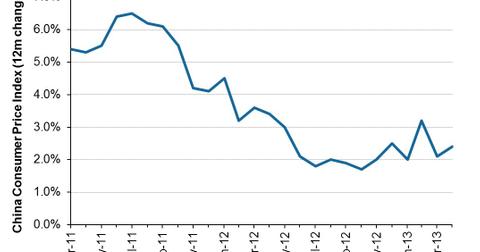 Chinese inflation not a concern, leaving room for very needed stimulus
By Dale A. Norton, ME

Updated
China has been lucky versus the other BRICs with regards to inflation and the uptick in April is not relevant.
Inflation, as measured by the consumer price index, is a key indicator of health in an economy. When inflation increases too fast, economic growth is choked and slows down either by reduced consumer spending or by monetary policy actions by the government to curb inflation.
Unlike Brazil, Russia and India whose elevated inflation has hindered the central bank's ability to drop rates to boost growth, China was actually almost at risk of deflation instead. Since the beginning of the year all three have lowered rates slightly and received heavy criticism that it was not enough or that inflation risks were too high.
China's advantaged is that despite all the recent disappointing data, starting by the Manufacturing PMI and more recently a false hope from unreliable exports data, the government can aggressively boost growth through increased spending and lower interest rates without risking a surge in inflation.
Inflation slightly higher in April
Inflation as measured by the consumer price index was 2.4% year over year in April, 0.1 percentage points higher than consensus and 0.3 percentage points higher than in March. The increase was more than the average increase of 0.1 percentage points during the first three months of the year.
The value is still far below the 3.5% target upper limit expressed by the government, leaving plenty of room for further increases. Assuming a 0.2 percentage point increase per month, inflation could grow for five months before surpassing the limit, giving the government time to boost growth.
Temporary food inflation led increase
Additionally, the uptick in April was higher than usual due to food prices, which increased 4.0% vs. 2.7% in March. Unfavorable weather conditions led to a sharp increase in vegetable prices, while pork prices contracted once again. This means that the acceleration is only temporary.
Non-food inflation dropped from 1.8% in March to 1.6%, which gives plenty of slack to the central bank.
Outlook
Overall, while inflation won't move markets right now, it is a necessary condition for the government to take action. Now investors just need to wait for the policy announcements coming from China in the near term to asses how effective they may be.
Article continues below advertisement