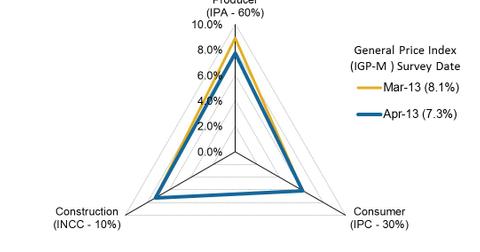 Brazilian IGP-M Inflation Index points to moderate inflation
By Dale A. Norton

Updated
The April reading of the IGP-M Index in Brazil showed that consumer prices were relatively stable through mid-April.
Recall that in mid-April the central bank in Brazil decided to raise interest rates 25bps to 7.5% to avoid inflation to go higher. Many analysts felt the hike was not aggressive enough and it would fail to contain inflation.
The inflation data from the IGP-M, which will be the last reading incorporating data before interest rates increase, and, therefore, it will serve as the benchmark to see if the hike was aggressive enough.
The data showed that the consumer inflation remained relatively stable at 6.1%, which means that perhaps the rates hike was large enough, perhaps even premature if inflation was already on its way down.
The data also showed that producer inflation continued its sharp drop, now at 7.7% versus 8.9% in February.
The data is positive in the short-term for two reasons:
First, it shows that the rates hike was likely the right amount

Second, it shows that the economy was already self-correcting inflation, eliminating inflation concerns
In the short-term, the data is positive, though next month's inflation reading will show whether or not inflation continues dropping or if it surprises towards the upside, which would be very bad for the market.
Article continues below advertisement